How to choose a sports bra for large boobs?
Why should I wear a sports bra?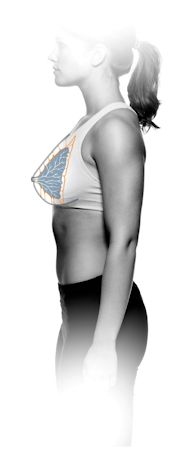 Every woman should wear a sport bra while exercising, also smaller busted women but it's specially important for women with large chest. The breast is held up with Cooper ligaments. When the breasts are not supported correctly and there is tension on the ligaments and skin of the breast, it can result in strain and over time may lead to a stretching of the tissue and to permanent breast damage. Strenuous bouncing exercise may accelerate the streching of the ligaments.
Take care of your breasts and choose a sports bra that is right to you and for your chosen sporting activity. Supportive sports bra will make exercising more enjoyable, as they will reduce your breast movement and pain.
How to choose the best sports bra for big bust?
Choose a bra that's the right size and fit! If the band is too loose, the bra will not provide any support. Worn out old bra will not function as a sports bra, not even if you double up!
The material in the bras should wick moisture. Remember to wash your bras regularly after use, so it will keep it's shape and elasticity.
"The uglier, the better!" You probably will not take part in any beauty pageants in your sports bra. Choose a sports bra on the basis of functionality rather than the looks. The material shouldn't be too soft in the cups if the bra is used in bouncing activities such as walking, running or horseback riding.
Make sure the shoulder straps are wide enough, so that the pressure is evenly divided. It's good if the straps are adjustable.
Generally the more cover the cup has, the sturdier it is. Support is needed on top of the breast as well as below.
Do not use top like bras that are pulled over the head, even if they give good coverage. As you pull the bra over your head to put it on, the fabric streches too much. The top might not give enough support to the breasts. The bra will be too loose in the cups and under the breast.
Do you need a wired or non-wired bra? Bra with wires might feel more normal as most women wear wired bra as everyday bras, but during sports wires are not always necessary. In some sports wires can be uncomfortable if there are high impact hits to the body or streching and bending.
Our sports bras for bigger busted women
We have chosen these bras into our store's offering, because they are especially designed for largers busts and give the best possible support. The size range is so comprehensive that almost all curvy women will find a sports bra that is suited to her and the chosen sporting activity.