Sugar Candy Basic Seamless Soft Everyday Bra Black
Cake Maternity

28-8005-06 Continuity

59,00 €

( Outside EU 47,58 €, 57.03 USD, vat 0%)

Choose your size from the table.
| | | | |
| --- | --- | --- | --- |
| | = In stock(pcs) | | = Temporarily sold out |
This item will be restocked later. If the product or your size is temporarily out of stock, please leave your email and we'll let you know once it's available again.
Handling:
Orders received before 2 pm (GMT+2) are handled during the same day. Orders received after 2 pm, on weekends or on holidays will be handled the next work day.
Delivery:
We deliver worldwide.
EU DHL Parcel connect, 6,90€, free delivery on orders over 120€
EU Priority package, 6,90€, free delivery on orders over 120€
NON EU EMS Express Mail Service package, 14,90€, free delivery on orders over 150€
Worldwide UPS Express. EU countries 24,90€, rest of the world 29,90€. Recommended delivery partner. Delivery in 1-4 days to everywhere in the world.
❤

Wirefree, seamless everyday bra

❤

XS-XXL (65-100, G-L)

❤

90% nylon, 10% elastane

❤

Black

❤

3-4 rows of hooks and eyes in 6 rows.
This seamless everyday bra is super soft and comfortable. Ideal when you want soft and comfortable with. See the size chart from product pictures.
Machine washable
Sugar Candy

Rock Candy, Toffee nursing tank top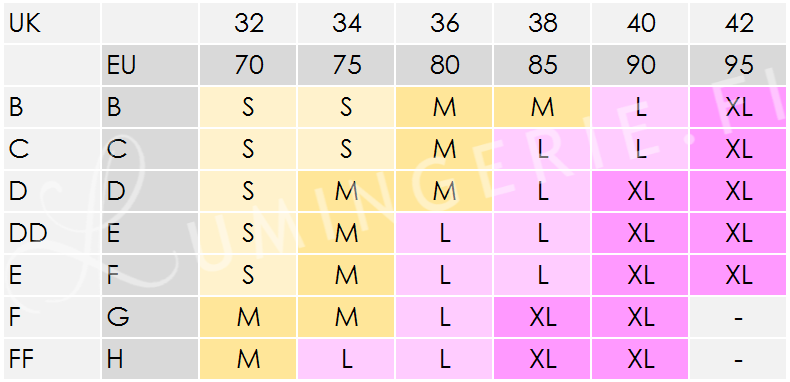 Write a review
Anne, 70 F - 02.04.2018
Todella hyvät! Tukevat paremmin kuin perusliivit, mutta eivät paina ollenkaan. Menevät pitkään maidontulon tasaantuessakin, kun olkaimet saa ristiin ja liivit tukevat taas entistä paremmin. Ostaisin ensimmäisiksi liiveiksi imetyksen alkuun kun ei vielä tietoa mihin kokoon rinta asettuu.
Sofi 70F - 16.06.2017
Koko vastasi hyvin odotuksia kun tilasin mittataulukon ohjeiden mukaisesti. Muuten liivit eivät sitten vastanneetkaan odotuksia. Halusin pehmeät liivit kotoiluun, mutta näissä oli kupeissa kovasti toppauksia sivulla ja alareunassa jolloin rinta nousi aivan ihmeelliseksi törröksi, eivät olleet siis minun mieleeni malliltaan.