The Virtual bra fitter helps
you to fit a bra in the comfort of your own home.
How to put a bra on correctly?
Bend forward so that the breasts are hanging freely.
Place the wires just below the the bosom and and put the breast in the cup. The breast should be fully inside the wire and the wires agains the ribcage.
Pull the wings behind your back put the bra on the loosest hooks as it will loosen in time. This will allow you to tighten the band later.
Stand up and put your arms throught the straps.
Grab your bosom with your right arm and adjust the breast into the cup. Do the same for the right breast also.

1. Choose the bra manufacturer and size of the bra you are currently fitting:

2. How does the band feel?
Firm but does not dig in on the sides.
Bra is on the loosest position on the first row.
I can pull the band a couple of centimeters of the skin on the back side.
The Band is sitting horizontally and the bra stays put and does not ride up.
The band is barely long enough to get on to the loosest position or not at all.
Cannot pull the band away from the back.
The bra is digging into the skin.
The bra rides up the back.
Feels that you have to pull down on the bra band constantly.
When you lift up your arms the wires come of the chest and the brests try to fall out.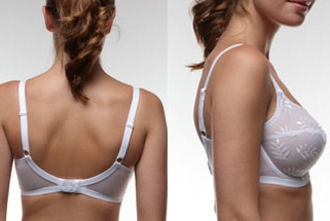 3.How does the cup size feel?
The boobs are spilling over the top or sides.
Side profile show the quatraboob effect.
The wires are not flat against the chest are poking out.
Boobs do not fit inside the cups and the wires are on top of breast tissue.
The breasts are slightly coming over the top or sides.
Wires are pressing the breast tissue under the arms.
The center of the bra is slightly off the breast bone betweek the boobs.
When lifting up the arms the wires come of the chest.
The wires are flat agains the breast bone between the boobs.
No extra fabric in the cup and cups are smooth.
No spillage over the top or sides.
Bra is would be great is the band was tighter. Try the sister size suggested by the virtual fitter.
The cups have wrinkles and are a bit empty.
There is room between the cup and boobs.
The bra does not feel supportive eventhough the straps have been adjusted correctly.
The cups are all wrinkled and they have lots of extra room.
You can fit fingers between the breast and cup.
The wires are larger than the breast.
4. The right size on the bra you are fitting
If you ordered more than one bra, fit all of the bras separately with the virtual fitting assistant.