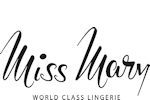 Miss Mary
Are you looking for a bra that feels comfortable all day long? Are you tired of ill-fitting bras? Do you feel like you want to take your bra off the minute you walk in from front door?

Miss Mary is not just bras and lingerie, but they are designed for real women with fit and comfort in mind. The timeless designs are fit for all ages and quality materials and well-thought details make them so comfortable, you don't want to take them off.

Take a look on the Miss Mary world class lingerie collection, designed in Sweden, made in Estonia. Miss Mary has offered lingerie for over 60 years, so they really know their business. All products are tested by ordinary women, just like you and me.