Sugar Candy Lux Seamless Nursing Bra Black
Cake Maternity

Continuity 27-8006-06

69,00 €

( Outside EU 55,65 €, 58.00 USD, vat 0%)

Choose your size from the table.
| | | | |
| --- | --- | --- | --- |
| | = In stock(pcs) | | = Temporarily sold out |
This item will be restocked later. If the product or your size is temporarily out of stock, please leave your email and we'll let you know once it's available again.
Handling:
Orders received before 2 pm (GMT+2) are handled during the same day. Orders received after 2 pm, on weekends or on holidays will be handled the next work day.
Delivery:
We deliver worldwide.
EU DHL Parcel connect, 6,90€, free delivery on orders over 120€
EU Priority package, 6,90€, free delivery on orders over 120€
Worldwide UPS Express. EU countries 29,90€, rest of the world 34,90€. Recommended delivery partner. Delivery in 1-4 days to everywhere in the world.
❤

Wirefree, seamless nursing bra

❤

XS-XXL (65-100, G-L)

❤

90% nylon, 10% elastane

❤

Black

❤

3-4 rows of hooks and eyes in 6 rows.
This seamless nursing bra is super soft and comfortable. Ideal when you want soft and comfortable fit. See the size chart from product pictures.
Machine washable.
Sugar Candy

Rock Candy, Toffee nursing tank top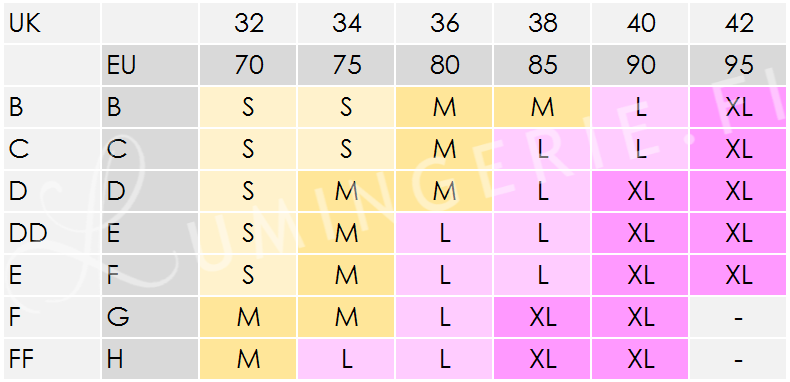 Write a review
Mia, M - 09.02.2022
Hyvin kaksijakoinen mielipide näistä. Ensimmäiset 2 imetystaipaletta nämä oli ihan kauhean jäykät, painoivat kyljistä ja jätti ikävät jäljet. Olivat päällä vain pakosta. Nyt kolmannella kierroksella nämä ovat ilmeisesti käytössä kulahtaneet ja pehmenneet, koska ihan parhaat liivit päällä. ei hierrä, ei kierrä, ei paina edes päikkäreillä. Kropan koko ei ole ainakaan pienentynyt tässä kolmen lapsen jälkeen, joten väljyys ei selity sillä. Nykyään voin siis suositella, mutta ensikosketus ei ollut pehmoinen. Liivit hankittu 2019 odotusaikana.
Marse , XL - 14.04.2020
Ihan mielettömän ihanat imetysliivit! Todella hyvin tukevat, kuppikiinnitys helposti avattavissa / suljettavissa. Reilun kokoinen kuoppi, rinta ei jää "pullottamaan". Ihan paras imetysliivi!
Johanna, 75h - 24.05.2019
Kaarituettomiksi todella hyvältä tuntuvat liivit. Pehmoiset päällä. Vähän niin kuin Sugar Candyt, mutta vielä paremmat! Nostaa roikkuvatkin rinnat ryhtiin. Miellyttävät päällä. Käytössä lähes joka päivä. Mitoitus täsmää, otin taulukon mukaisen koon. Kangas hieman nyppyyntynyt käytössä, lähtee nyppimällä pois. Loisto liivit loistaville äideille juhliin, arkeen ja urheiluun!