Sugar Candy Lux Seamless Everyday Bra Black
Cake Maternity

28-8006-06 Continuity

66,00 €

( Outside EU 53,23 €, 64.06 USD, vat 0%)

Choose your size from the table.
| | | | | | |
| --- | --- | --- | --- | --- | --- |
| XS | S (1) | M (3) | L | XL (2) | XXL (4) |
| | | | |
| --- | --- | --- | --- |
| | = In stock(pcs) | | = Temporarily sold out |
This item will be restocked later. If the product or your size is temporarily out of stock, please leave your email and we'll let you know once it's available again.
Handling:
Orders received before 2 pm (GMT+2) are handled during the same day. Orders received after 2 pm, on weekends or on holidays will be handled the next work day.
Delivery:
We deliver worldwide.
EU DHL Parcel connect, 6,90€, free delivery on orders over 120€
EU Priority package, 6,90€, free delivery on orders over 120€
NON EU EMS Express Mail Service package, 14,90€, free delivery on orders over 150€
Worldwide UPS Express. EU countries 24,90€, rest of the world 29,90€. Recommended delivery partner. Delivery in 1-4 days to everywhere in the world.
❤

Wirefree, seamless everyday bra

❤

XS-XXL (65-100, G-L)

❤

90% nylon, 10% elastane

❤

Black

❤

3-4 rows of hooks and eyes in 6 rows.
This seamless everyday bra is super soft and comfortable. Ideal when you want soft and comfortable with. See the size chart from product pictures.
Machine washable
Sugar Candy

Rock Candy, Toffee nursing tank top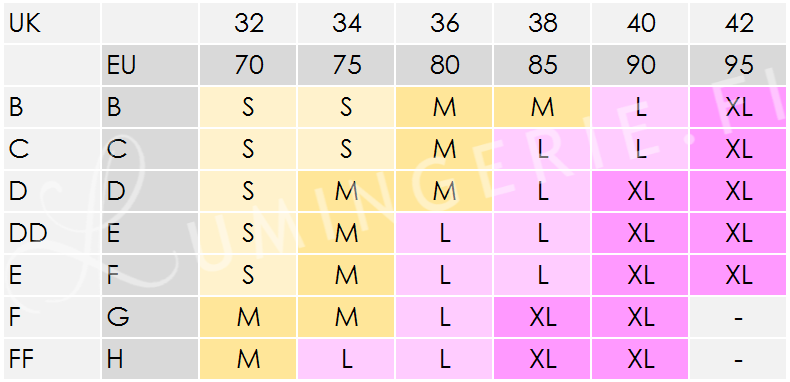 Write a review
65GG/H - 25.05.2020
Ostin nämä kotiliiveiksi, ja toimivat hyvin sellaisina: tukevat mutta ovat samalla mukavammat lojumiseen kuin kaarituelliset yleensä. Olen vähän kokojen välissä, mutta päädyin kommenttien perusteella ottamaan isomman eli S-koon, ja se oli oikea valinta. Melkein tekisi mieli testata M-koon kuppia, mutta luulen, että se ei kokonaisuutena tukisi yhtä hyvin.

Positiivinen yllätys oli, että paidan alla muoto on yllättävän hyvä, ja kehtaisin näiden kanssa kyllä pyrähtää myös kodin ulkopuolelle. Lisäksi olin vähän huolissani siitä, uhraanko mukavuutta saadakseni tämän pitsikoristellun mallin, mutta pitsin alla olikin ihan samaa pehmeää sisämateriaalia kuin muussakin kupissa.

Hintansa väärti varsinkin nyt etätyöaikana!
K, 70GG - 30.09.2019
Tilasin taulukon mukaan koon s (pääsääntöisesti käytän kokoa 70GG), mutta se oli pienehkö. Tarve oli kuitenkin niin äkkiä, että pidin liivit. Tulen kyllä tilaamaan seuraavan koonkin itselleni, koska mikään muu kaaritueton liivi ei ole ollut näin mukava päällä! Lisäksi nämä minusta tukevat myös hyvin! Mukavuutta näihin tuo erityisesti tuo alareuna, joka on resorimainen ja pehmeä eikä rullaa tai paina hiertymiä ihoon.

Kokeile ihmeessä, ovat varmasti jokaisen pennosen arvoiset
65M/J - 10.06.2019
Olen etsinyt jo pitkään sopivia oloiluliivejä, joissa ei olisi kaaritukia painamassa ikävästi, ja tästä liivistä löysin lopulta itselleni hyvät kotiliivit.

Kokotaulukosta ei löytynyt omaa kokoani 65M/J mutta otin rinnakkaiskokoa 70L/HH vastaavan koon eli M. M-koossa oli kuitenkin aivan liian pieni kuppiosa, joten vaihdoin kokoon L.

L-koko on minulle oikein mukava. Ympärystä ei saa enää niin kireälle mihin on tottunut normaaleissa liiveissä, mutta ympärys on silti sen verran napakka, että liivit pysyvät oikealla paikallaan. Näistä tulee ehdottomasti lempikotiliivini!